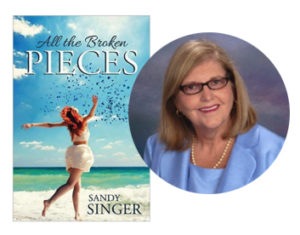 Without Sandra Byrd, my lifelong dream to be published would not have been realized. She has been my mentor, teacher, cheerleader, and friend.
I remember traveling to hear a well-known New York Times best-selling author speak to a large group of want-to-be authors. He talked about the importance of sitting under a published author, allowing them to read and edit our work. I later spoke with him and told him I had recently agreed to do that very thing. When he asked who my mentor was, I told him Sandra Byrd. I can still hear his reply, "You've got the best."
And he was right.
After only a few weeks of working with Sandra Byrd, I had gained the skill and courage to query and submit my first article. To my amazement, it was accepted. I earned enough money to buy a new desk, and gained enough confidence to submit more articles.
Under Sandra's teaching, I learned the importance of being meticulous with point of view. She taught me how to go through my writing to check that all the senses are used. Sandra showed me how changing one word can make all the difference. She taught me how to write so readers care about what I have to say. Her encouragement and instruction pushed me to believe I could actually write a novel, a feat I'd always dreamt of, but had been afraid to tackle.
I never thought I'd know the joy of having this dream of mine come true, and I am convinced it would not have, if it hadn't been for Sandra Byrd.